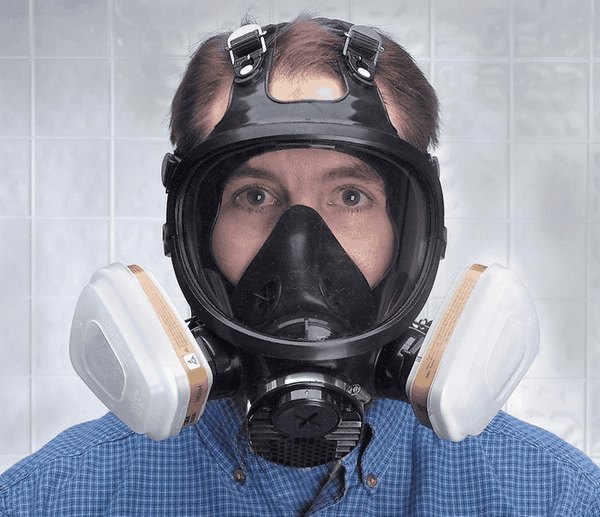 Another handle...
I made a second one, much like the first one, this afternoon. This time I did a better job of the turning, making a handle that's a bit more pleasing to the eye. I also did the second one while wearing my "gas mask" – well, that's what it
looks
like, anyway :) It's a 3M respirator (7800S) that has about 50 different filters you can buy for it. I bought a supply of two kinds of filters: one for particulates (think sawdust, especially fine sawdust from sanding) and one for the kinds of solvents used in paints and finishes. Today was the first time I tried using it, and it was a very pleasant surprise, for these reasons:
It's comfortable. I wore it for 2 and a half hours, and hardly noticed it.
It's easy to breath. The filters have a large surface area, which means you don't notice any extra effort to take a breath (unlike every other effective particulate mask I've ever tried).
It's effective. I felt like I was breathing clean mountain air :)
It works over my glasses. I was worried about this aspect. The customer reviews for it had mixed messages about whether it would work with glasses. I have metal frames and the ear pieces are very small, so I had hope. It works great!
It works over my beard. Again the reviews had mixed messages. I needn't have worried, as it worked just fine.
The face plate doesn't fog up. That's because your breath is in a separate passage and doesn't circulate all the moist air in the section where your eyes are. Good design, and effective.
Between this respirator and the dust collection system, I think I'm going to have zero problems with either breathing or seeing in my woodshop. It's a far cry from every other shop I've ever worked in, and a big relief to me, as this was one of my main concerns when designing my wood shop...