Sunday, January 12, 2014
Blast from the past...
Reader and friend Simon M. passes along this video of a news report from 1981, talking about the wonders of online news reading.
I don't recall ever seeing this particular news report, but it could have been about me: I was reading the news online in 1981, for the first time. At that time, I was a big user of
CompuServe
, the then-giant of the online world (this considerably predates the Internet).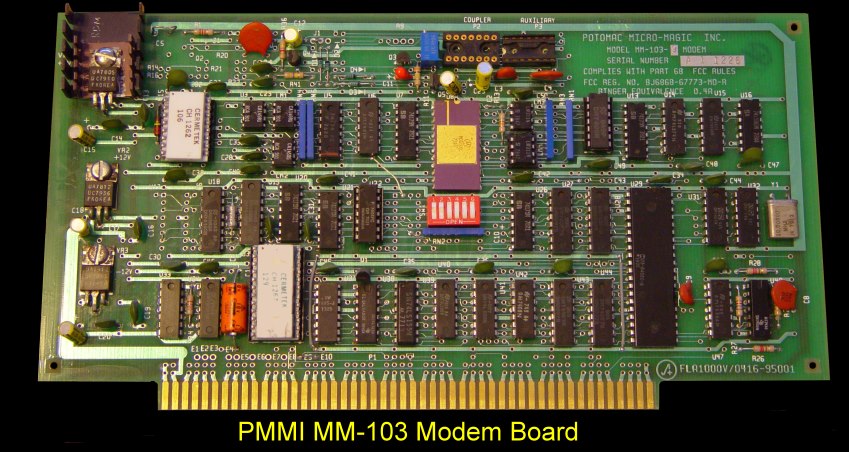 Back then, we connected to CompuServe through
a 300 baud modem
, faster than the 110 baud acoustic coupled modems shown in this video. We also connected to privately-run, free "bulletin board services" (BBS), and on those we could connect as fast as 700 baud using
a proprietary modem from a now-defunct company with a memorable name: Potomac Micro Magic Inc., or PMMI for short
(image at left). Their modems were S-100 boards crammed with discrete components, marvels of electronics ingenuity for their time. I was amazed to find that
the manual for that ancient thing is available online
, and reading through it brought that board right back to life for me, along with some of the norms for the day. Back then, we had to use FCC-registered "couplers" to legally connect a modem to the phone line; that was a hangover from the fully regulated telephone lines of just a few years earlier, when it was illegal to connect
anything
to the phone lines unless you bought it from AT&T. Then I had to laugh at the extensive programming examples in the manual – in several flavors of Basic, and in 8080 assembly language. What a different world back then!
Posted by

Unknown
at (permalink) 10:36 AM
No comments: