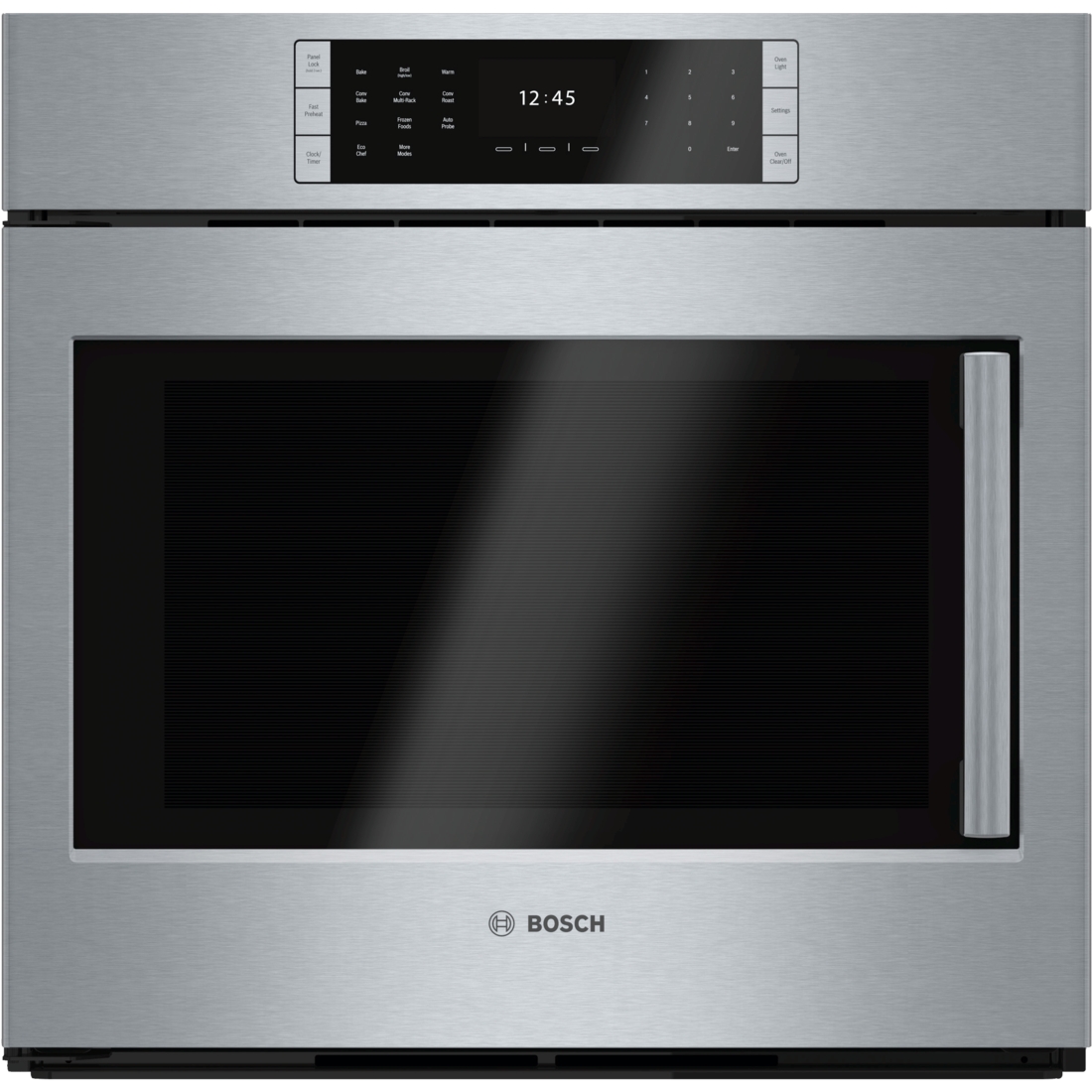 Paradise ponders: of ovens and arduous kits...
Yesterday morning we finally got our new oven (Bosch photo at right) delivered and installed. We were supposed to get it this past Monday, but after looking at it Darrell realized he was going to need some help – the beast weighs 180 pounds! Darrell (the owner of
Darrell's Appliances
), with Brian to help him, had it installed in less than an hour after arriving. I had already removed our old oven and wired an electrical box, which saved them some work. However, there was a challenge for them: the opening in our cabinetry was 3/8" too narrow. Darrell set up some tape as a guide, whipped out his Makita jig saw, and had that problem fixed in a jiffy. There was a bit of a struggle to get it off the floor and into the hole, but once they did everything else went smoothly. It seems to work fine. The controls are a breeze to use. We haven't cooked anything yet, but I'm sure Debbie will pop something in there soon! :) One big surprise for us: it comes with a meat thermometer that plugs into a jack inside the oven. How very convenient!
Yesterday I started building the new router table I bought (Rockler photo at right). When I took delivery of the table, I thought there had been some kind of mistake: it came in two flat boxes, just a couple inches thick and not all that big. No mistake, though – it's just a
serious
kit. By that I mean that what you get is some pieces of sheet metal, cut, drilled, bent, and threaded as needed, along with a bag of nuts and bolts. A
big
bag of nuts and bolts! The packing was ingenious – a whole lot of metal pieces packed into a very small volume. I was a bit dismayed upon seeing the kit after unpacking it, as my general experience in assembling kits made mostly of sheet metal is ... pretty bad. Things usually don't fit right, and I end up using pliers, hacksaws, rubber mallets, and nibblers to get everything to fit. Often I have to drill and thread my own holes. Worse, usually the edges of the sheet metal are as sharp as a razor blade and I end up looking like the losing side of a knife fight.
I'm about one third of the way through the assembly, and so far I am very pleasantly surprised. With just a single exception, every part has fit precisely correctly, first try. Better yet, the edges of the sheet metal don't seem quite so sharp – no cuts yet (and no bloodstains on the goods!). The one exception was a minor one: I needed one gentle tap of the rubber mallet to get a recalcitrant threaded hole to line up with a drilled hole. The directions are crystal clear, with great illustrations. I hope the rest of the assembly is just as nice!