Paradise ponders...
Yesterday a neighbor (Alan L.) asked if he and two of his boys could come over to use the woodworking tools in my shop to help them with their "
pinewood derby
" cars. His younger boy (Nic) needed his for his scouts; the older boy (Zac) was doing it just for fun. Both of them needed to cut the rectangular blocks that came with their kits into a slightly more curvy shape. Nic had an ambitiously complex shape in mind; Zac wanted a simple wedge with a slight curve.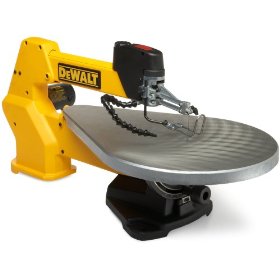 The right tool for both of them was a power coping saw. I have the same model as the one pictured at right.
Nic is about 11 years old, and has little experience with power tools (or tools in general, for that matter), so this is a good choice for its simplicity and relative safety, too. We gave him a bit of instruction on the proper use of the saw, and let him practice on a piece of scrap wood. He did fine during practice, and his "real" cuts on the block of pine that came with his kit were darned near perfect.
Zac is a couple years older, and a lot more confident (though not necessarily justifiably :) than Nic. His design was also much simpler, and he cut his block without any issues at all.
I'm hoping Alan will share some photos with me; if he does I'll post them. He is a photographer and web designer by trade, and his camera was clicking away like mad all evening :)